Welcome to Mini Bikes Store YouTube Competition !!
Our Youtube channel just reached 41k subscribers, we would like to thanks our subscribers to be with us, to watch our videos, so we have decided to giveaway FREE PS50 Rocket Sport Pocket Bike from Nitro Motors in Orange color to the winner of our competition !!
To enter our competition and get chance to WIN Brand New PS50 Rocket Sport Pocket Bike worth over €300 (incl. delivery to your door) you must to:
1. Be Subscriber of our youtube channel
2. Register an Account on our Website:
Click Here to Register an Account
3. Send us an email to: competition@minibikes.store
in the email title write: "your nick from youtube"
in the description please write: "your full name" and county which you are from.
The Draw of our YouTube competition will take place when our youtube channel Mini Bikes Store will pass 50k Subscribers.
We will upload video of the draw to our youtube channel and on our website.
The winner of our Competition will receive FREE Pocket Bike PS50 Rocket Sport delivered to his door !!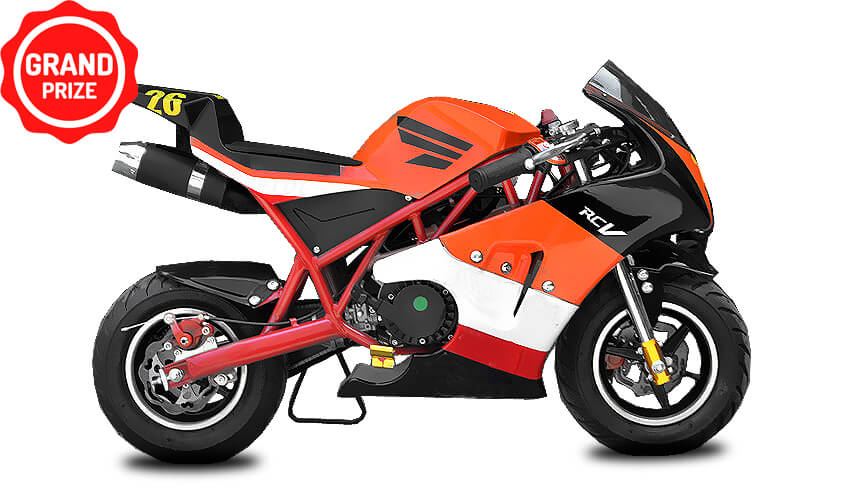 Terms&Conditions:
To enter our competition you must be living in one of the Counties listed below:
Austria, Belgium, Bulgaria, Croatia, Czech Republic, Denmark, Estonia, Finland, France, Germany, Greece, Hungary, Ireland, Italy, Liechtenstein, Latvia, Lithuania, Luxembourg, Monaco, Netherlands, Norway, Poland, Portugal, Romania, Slovakia, Slovenia, Spain, Sweden, Switzerland and United Kingdom
You will enter competition automatically after compliting 3 points above: subscribe to our youtube channel, register account on our website and send email confirming that you wish to join the competition.
The draw of our competition will take place after our youtube channel will get 50k subscribers, video of the draw will be uploaded to our youtube channel and to our website.
After draw we will contact the winner of the competition and ask him to log in to his account on our website and fill required details for shipping the winning prize. The winner will receive the winning prize free of charge within 14 working days.
The winner of our competition is obligated to send us short video of him riding the Pocket bike he receive from us, the video must be between 3-5 minutes long and must be in 1080p, we will use the video on our youtube channel which the winner has to give permission. If the winner will not send us video we will bill him for the Pocket Bike he received.
Good Luck !!