Dragon Sport 49cc PETROL KIDS MINI QUAD BIKE
Brands Nitro Motors
Model: Dragon 49cc Sport Edition
Availability: Out Of Stock
International Delivery
We deliver our products to 32 European Countries directly from our warehouse in Germany. We provide tracking number for every order.
Best Price Guaranteed
We cooporate with the largest importer in Europe and largest shipping companies: DPD & Kuehne+Nagel
We are EU Company
All our prices include all taxes for all European customers ! You won't be suprised by getting extra bill from customs!
Dragon 49cc Sport Edition Mini Quad from Nitro Motors. Dragon 49cc sport edition mini quad is the smallest of our 49cc mini quads. Fitted with great 49cc 2 strokeengine
This is a perfect starting Quad for abeginer.
Extras:
- 49cc 2 stroke Nitro Motors Engine
- Stickers Set
- High quality tyres
- Speed restrictor
- Safety kill switch
- Discbrakes
- Racingexhaust with aluminum end
- Sport airfilter (mushroom-shaped metal)
- Easy pull starter
- Off Roadprofile tires
- Front and rear suspension
-Recommended Riders Age Group 3-6 Years Old
- Full support on our youtubechannel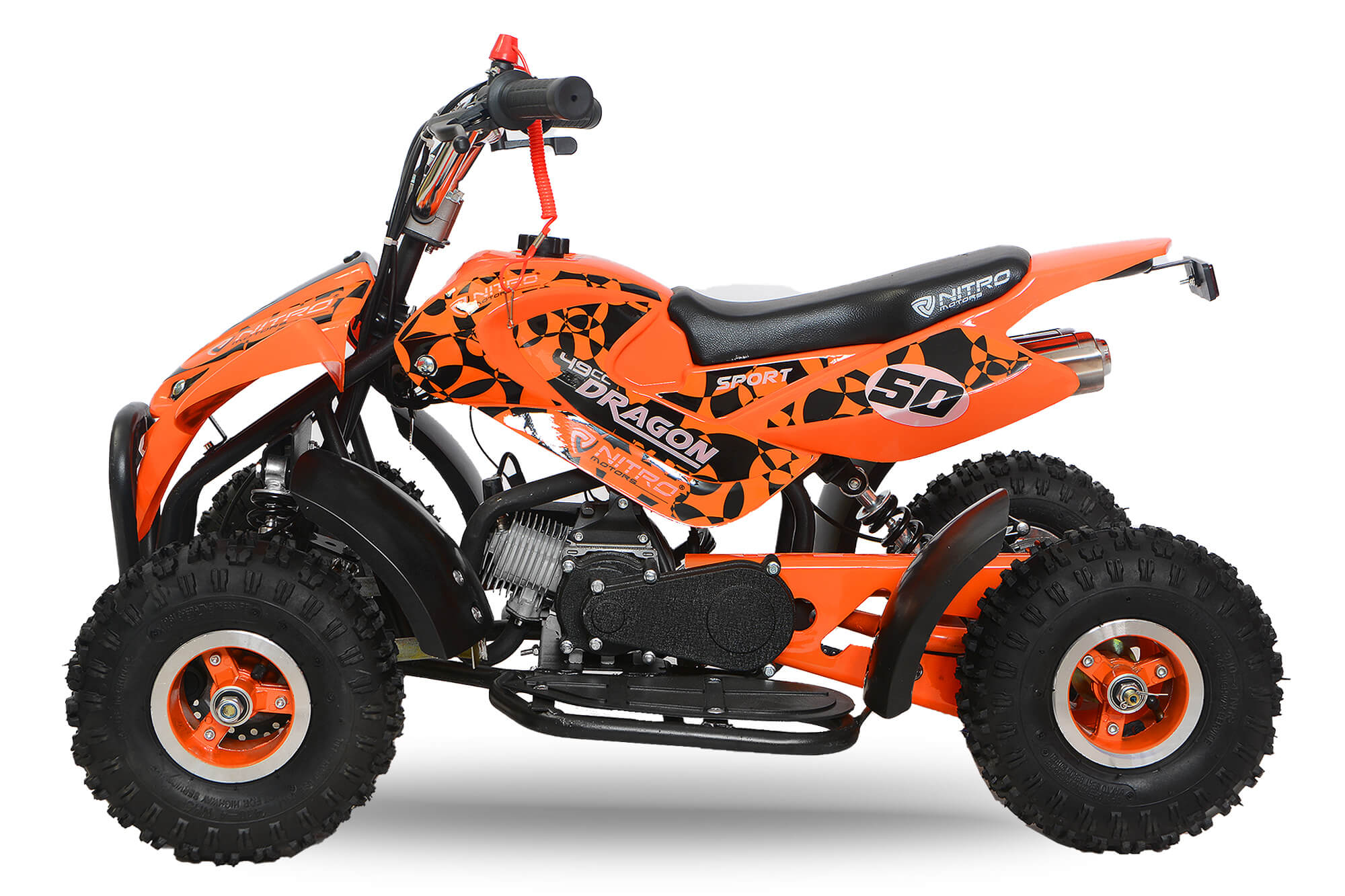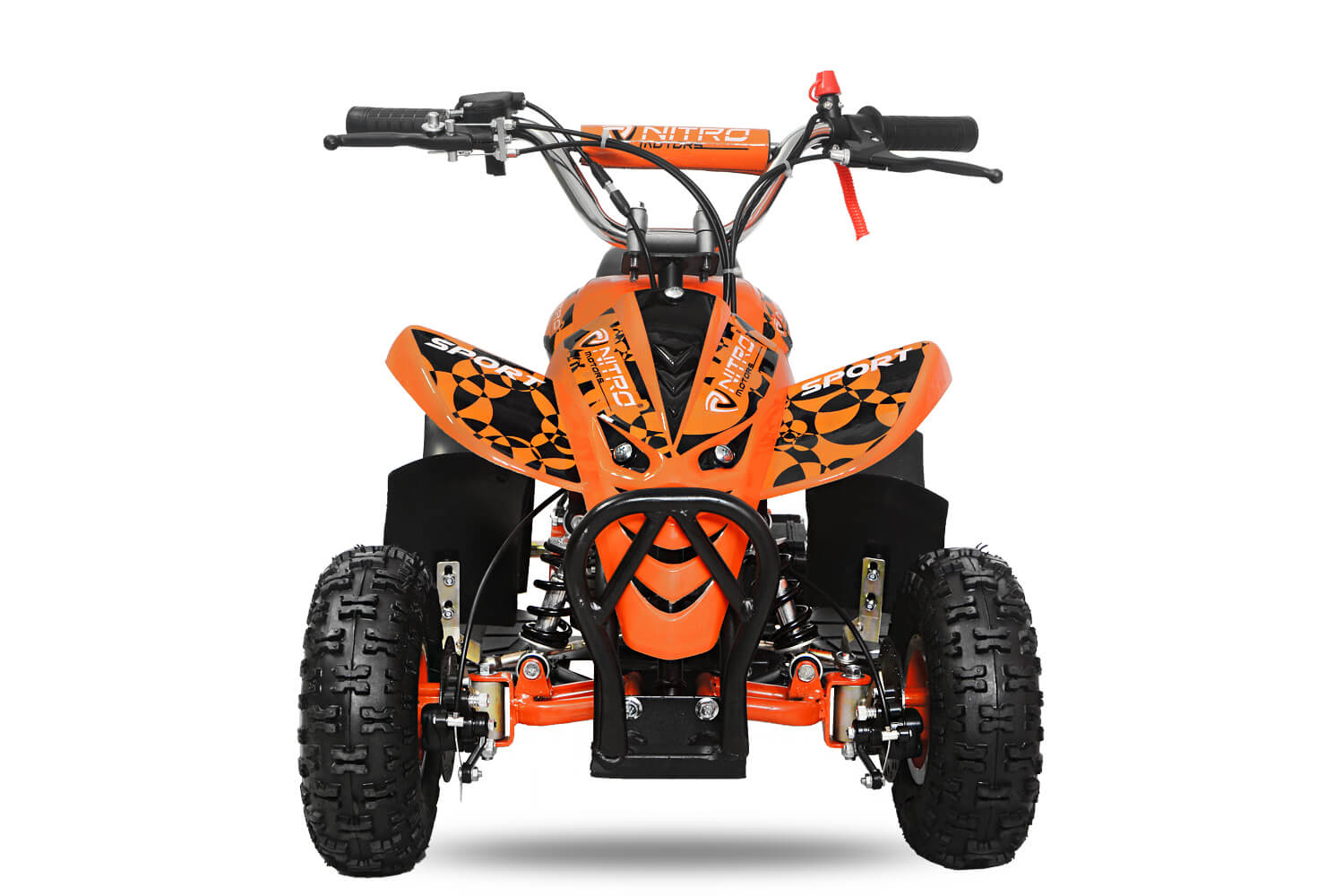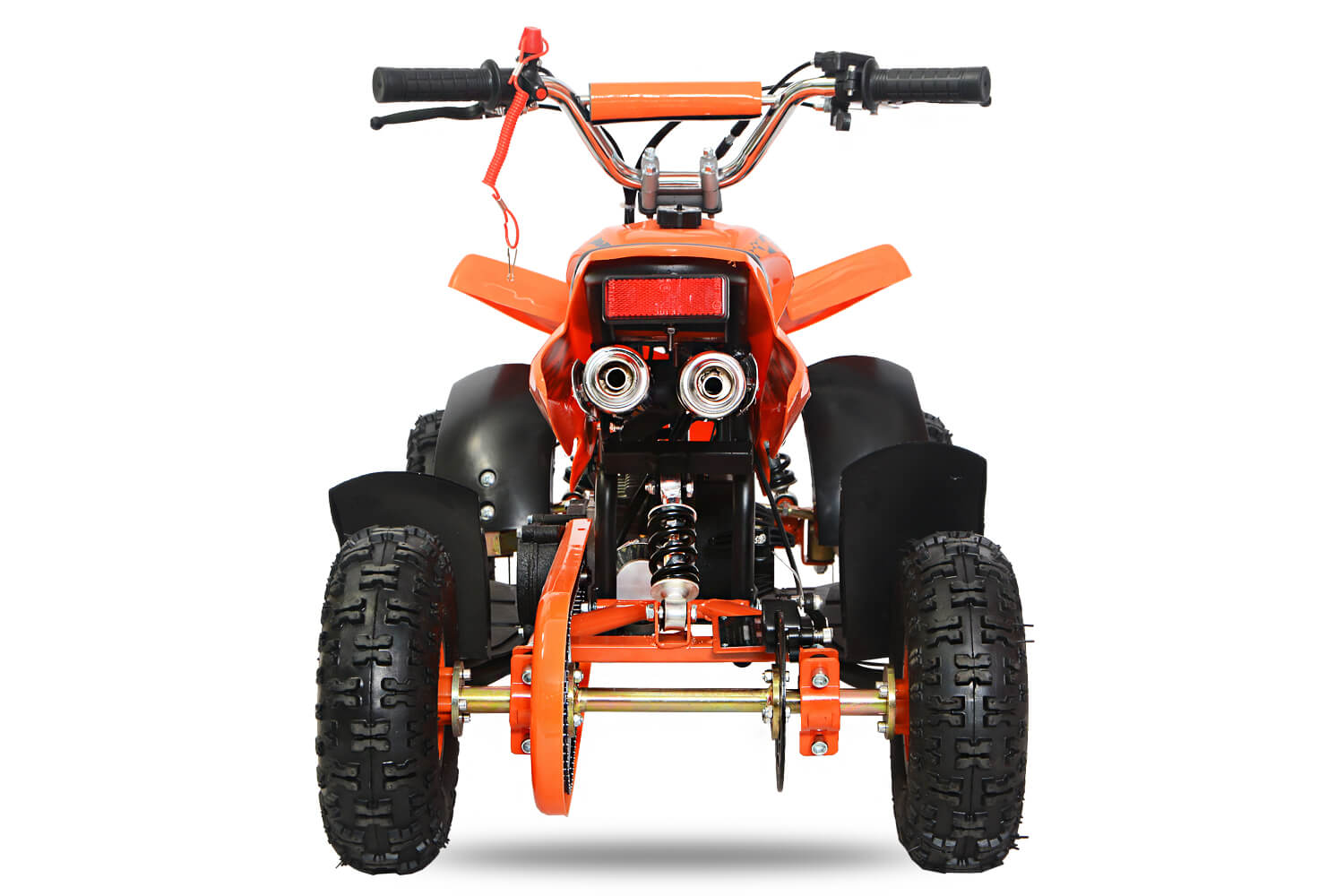 Specification:
Manufacturer

Nitro Motors

Engine

49cc 2 stroke air cooled

Performance

3.5hp

V-Max

50 km / h

Transmission

Automatic

Drive

Chain

Ignition

Easy pull start / CDI

Fuel

1:25 petrol-oil mixture

Brakes

Front & rear disc brakes

Wheels

4"

Weight

28 Kg

Max Load

60 Kg

Dimensions in mm

LxWxH

920x57x650

Seat height from the ground

480

Ground clearance

140

Recommended age group

3-6
Note:
Product willbe send in the box almost fully assembled, you will be required to put fewparts on (wheels, handle bar, mudguard etc.) Build time aprox. 15-40min. Please visit our youtube channel forinstruction videos:

AllMotorbikes and Quads sold by MiniBikes.Store must be operated in a responsiblemanner.
Childrenunder the age of 14 must be supervised at all times.
Please havethe correct safety equipment and clothing when using bikes or similar machines.
The use ofany powered vehicle can involve the risk of serious harm or injury if notoperated correctly.
AllMotorbikes and Quads sold by MiniBikes.Store are not permitted on public roadsor motorways.
In theevent of these bikes being used on a public roads can result in criminalproceedings.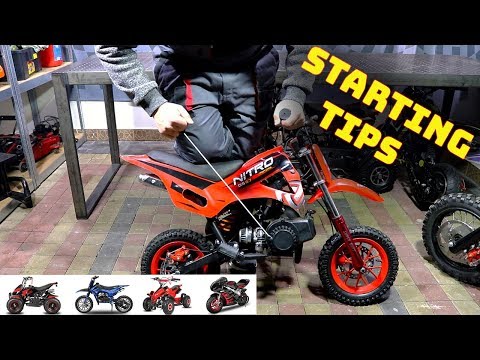 Starting TIPS when the engine wont start - 49cc Engine
on 13/02/2019
Video how to start the Pocket Bike 49cc 2 stroke engine if it is not starting the normal procedure.
View more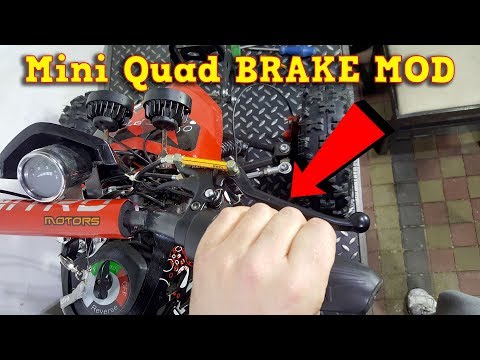 Mini Quad - MUST HAVE - Brake Lever Modyfication for small Children
on 13/11/2018
Video how to modyfi brake levers in 50cc and electric quads for small children so they can reach them very easy with their small hands. 
View more
View all
Tags: Dragon, Sport, 49cc, PETROL, KIDS, MINI QUAD, BIKE