Hawk Sport Edition 125cc PETROL KIDS MIDI QUAD BIKE
Brands Nitro Motors
Model: Hawk 125cc Sport Edition
Availability: In Stock
International Delivery
We deliver our products to 32 European Countries directly from our warehouse in Germany. We provide tracking number for every order.
Best Price Guaranteed
We cooporate with the largest importer in Europe and largest shipping companies: DPD & Kuehne+Nagel
We are EU Company
All our prices include all taxes for all European customers ! You won't be suprised by getting extra bill from customs!
The Hawk S7 Sport Edition 125cc Quad is one of our Platin Line Kids Quads.
Equipped with bulletproof 125cc Nitro Motors Engine, automatic gearbox with reverse gear and large 7 inch wheels it makes the Hawk S7 quad perfect choice for first quad. Our platinum line guarantee highest quality of the quad.
Automatic Gearbox + Reverse
Hawk S7 Sport Edition 125cc Quad Bike Main Features:
125cc 4 stroke engine

Electric Start
Digital gear indicator
Front and rear LED lights
Automatic + reverse gear
Metal tank with aluminum cover
Hand protectors
Heavy duty painted still frame
Rear luggage carrier
Soft suspension for extreme off road experience
Sport exhaust
Chain & exhaust guards
Build in speed restrictor
Emergency kill switch
1x Hydraulic Disc Brake, 2x Drum Brakes
Manufacturer Nitro Motors
Engine 125cc 4 stroke air cooled
Performance 9hp
V-Max 50 km/ h
Transmission automatic + reverse
Drive chain
Ignition electric start
Fuel unleaded
Brakes 2x front drum & 1x rear disc brakes
Wheels 7"
Weight 90 Kg
Max Load 75 Kg
Dimensions in mm
1320x680x900
Seat height from the ground 620
We Ship This Product to 32 European Countries
Payments Secured by:
PayPal & PayU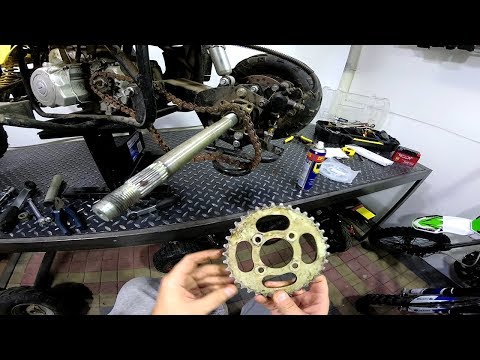 Replacing Chain and Sprockets on 125cc Quad - Full Instruction
on 04/10/2018
Instructions video how to replace chain and both sprockets on the 125cc 110cc Midi Quad. In this video step by step I will show you how to order proper parts, how to make the chain to the required size and how to replace the old sprockets and chain to new ones in 125cc Quad.
View more
View all
Tags: Hawk, Sport, Edition, 125cc, PETROL, KIDS, MIDI, QUAD BIKE